Calm Your Mind
&

Body | Focus Your Attention | Regulate Emotions | Find Balance
kids
&

teens

The Mindfulness Center loves
working with families, kids, and teens!
"The mind, placed before any kind of difficulty, can find an ideal outlet in the absurd. Accommodation to the absurd readmits adults to the mysterious realm inhabited by children."      ~ Andre Breton
Fortune found me (Keith Williams, LMFT) very early in my therapy career. My first work experience, and the one that still defines my mission and drive, was with working with children, adolescents, and families who were in crisis. While I would not, and did not choose this path initially, it ended up teaching and preparing me more than I could ever learn in the "normal" world of therapy. Seeing a child and family work through difficult times and come out with a renewed sense of hope, skills, and resilience is one of the greatest rewards a therapist can experience.
While many of the issues that children and adolescents face may look the same, he context that they occur in within a family system are always unique to that system and cannot be codified. I notice quite often in my work these days that there is a rush to diagnose or pathologize a child. If a parent or family can just get a diagnosis, then explaining the difficult behaviors they experience somehow becomes easier or justified. While some comfort may come from this, it is usually short lived and misses the bigger picture. The symptoms remain, and the family continues to struggle. There is little doubt that this push to diagnose is heavily influenced by the all too easy accessibility of "Dr. Google" and online explanations that hit just close enough to home to make a parent or family believe they have found the answer.
There can be many factors that influence the outcome of therapy. In my humble estimation, there is perhaps none more important than "fit." What is "fit?" Fit is having the opportunity to talk with your therapist before even beginning the work to begin to determine if they are a good match for your needs. Having the opportunity to begin to tell your story, as well as asking questions of your potential therapist about their approach can give you a great indication about the potential success of the work ahead. At The Mindfulness Center, we offer a free phone consultation that can really help to set the table and give you an informed start about the process.
In working with children/adolescents, assessment is a vital piece of the puzzle. At The Mindfulness Center, assessment does not simply start and stop after a visit or two. Assessment is ongoing throughout the therapy process, and often involves the consultation and inclusion of parents, siblings, grandparents, and other important family members. While this inclusion is by no means a mandate, we encourage the consideration of this inclusion in collaborative conversations with both the child and the parents. Expanding the lens through which we view the issues can have profound effects on treatment, and also the way  the child or adolescent views the ownership of those issues.
Our seasoned team is passionate about working with children and families. Our approaches are created by what the family teaches us along the way. We are nimble, playful, collaborative, and mission driven to connect families to solutions that they have had all along, yet for some reason have been just out of reach. We invite families early on in the process to take ownership of the work by asking how the work is going, rather than assuming it's going just fine and letting things be. We welcome criticism of our work, not seeing it as an insult, but instead an opportunity to pivot to better serve the families we work with as their stories unfold.
If you are considering therapy for your child or adolescent, we would encourage you to set up a phone consultation with one of our team members to determine that all important "fit." We consider ourselves so fortunate to do this meaningful work and are energized by the opportunity to so.
Keith Williams, LMFT works with families to create more harmony. He worked for two decades in Acute Child Psychiatric Services for Seven Counties (with Ashley Vaden, LMFT – see below!) and can help guide your family in a way that felt less tense and more enjoyable.
There is no crisis or issue that Keith hasn't seen and he's always up for a challenge. Clients love him and his approach!
Keith offers a free 10-minute phone consultation to see if he can be helpful to you and your family. View his scheduling page HERE!
Ashley Vaden, LMFT,  also formerly with Acute Child Psychiatric Services for Seven Counties (with Keith Williams, LMFT, above!) enjoys working with parents and their children and teens to learn how to work together as a family to utilize tools within themselves and their system. She helps his clients identify coping skills and techniques that have worked in the past and is brimming with creative techniques to help manage the issues you or your children are struggling with so you, and they, can move past them, be more present, and plan well for the future.
Ashley offers a free 10-minute phone consultation to see if she can be helpful to you and your family. View her scheduling page HERE!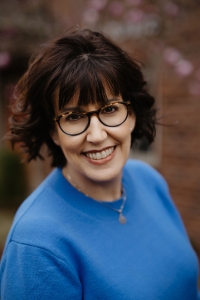 Elizabeth McCormack, LMFT loves her work with kids. She recently revealed in our Shifting Our Shit (S.O.S.) Podcast that she tells kids, "Don't be a Sponge Bob"!
She encourages kids to not absorb the feelings of everyone around them. Instead, we could focus on paying attention to our own emotions and taking care of ourselves.
Elizabeth offers a free 10-minute phone consultation to see if she can be helpful to you and your family. View her scheduling page HERE!