by Britt Riddle
I noticed recently that my smartwatch was giving me the "high heart rate" alarm more often than usual, which got me curious about how, if my watch can give me clues about when my nervous system may be heading toward dysregulation, I might also use it to help me move toward increased balance and emotional regulation.
If you wear a smartwatch, you're likely familiar with the haptic sensation—that silent, slight vibration that provides tactile feedback—it's just noticeable enough to notify us of a text, email, or movement goal, but undetectable to those around us. I downloaded a metronome app (mine is called Pulse, I'm sure there are many others) and set the metronome beat slower and slower. With each beat, I felt the haptic vibration on my wrist, and within a couple of minutes, I noticed my heart rate was decreasing—my heart rate and inhales/exhales were falling into sync with the rhythm of the vibration of the metronome.
This is a process called entrainment: when our body syncs with an external rhythm. This happens naturally when we dance to the beat of music we're listening to or tap our fingers or feet to the rhythm of a sound we hear in our environment. When our nervous systems are heightened and we are in a state of fight, flight, or freeze, entrainment can help us start to shift from feeling tense, restless, and on edge to a state of relaxation. Our breathing and heart rate slow down, our muscles begin to relax, and we can bring ourselves back to the present moment where we can then choose to respond rather than react.
I usually set the metronome app on my watch to about 60 beats per minute for 3-5 minutes, and the more often I use it, the more easily my heart rate and breathing begin to sync with its rhythms. I also discovered an app called Sense Relief that provides haptic vibrations for three minutes straight, which I find helpful for bringing me mindfully back to the present when I am feeling stress rise in my mind and body. These gentle vibrations act as a cue, reminding me to take a deep breath and/or do a quick body scan to check in with how I am feeling and what I need.
As a therapist (and human), I love making technology work for/with me and my clients. The great thing about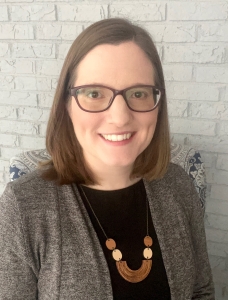 using haptic vibration is that it can be used anywhere—in meetings at work, in between classes at school, out and about, or at home—to increase feelings of calm and peace.
If you are interested in exploring more about mindfulness, stress, and emotional regulation, I would be glad to talk with you to see how we might work together. You can contact me or schedule a free 10-minute consultation or first appointment with me here.
I look forward to hearing from you!
Britt Riddle, DMin, MDiv, MAMFT has over fifteen years of experience working in various helping professions and navigating and recovering from compassion fatigue and burnout. She specializes in working with people in helping professions who want to prevent or reduce compassion fatigue—by clarifying their values, nurturing inner peace, cultivating mindfulness practices and perspectives, and rediscovering what brings joy in their lives.
https://mindfulness-center.com/wp-content/uploads/2021/09/michael-dziedzic-nbW-kaz2BlE-unsplash-scaled.jpg
1600
2560
Megan Bartley
https://mindfulness-center.com/wp-content/uploads/2022/10/logo-small.png
Megan Bartley
2023-03-29 15:40:58
2023-03-29 15:44:32
Technology & Mindfulness